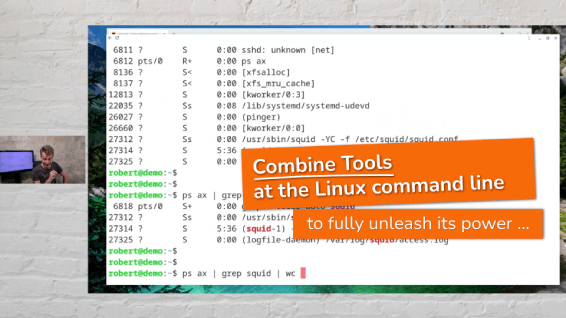 The massive power of the Linux command line comes from mainly two things:
First: The powerful command line tools available
There are a ton of command line tools you can find on any Linux system. Tools for every aspect of controlling the Linux system itself as well as tools for managing and processing your data and files in every single way you can think of.
And most of these tools follow a concept called DOTADIW:
DOTADIW: Do one thing and do it well.
So as a simple example, you have for instance the tool "w" for counting something. Or take the tool "sort" that is only used for different ways of sorting data.
But our real-world problems are typically a bit more complex than just counting or sorting something. This leads us to the second reason that makes the Linux command line so powerful …
Second: Flexible ways to combine multiple tools
The Linux command line gives you different ways to connect multiple tools with each other to solve a "bigger" problem. And this is what this article is all about - combining multiple tools.
The two reasons for combining tools at the Linux command line
There are typically two reasons why you need to combine tools at the Linux command line.
The first one is to do some sort of data processing …
such as for instance
you get some data from a file
you extract only the data that is useful for you
you sort the data according to your needs
then you reformat the data
…
I think you've got the point: You have a command line that gives you some data, and then you wanna give this data to the next command to process it further:

The second reason for combining tools is to implement some logic …
as for instance to …
restart a process if it isn't running anymore
send an email if a disk is full
generate a warning if a system isn't "pingable" anymore
highlight data if it matches a pattern
…

Let's start our journey with the first reason mentioned. Let's start with combining Linux command line tools for processing data …
Continue reading »