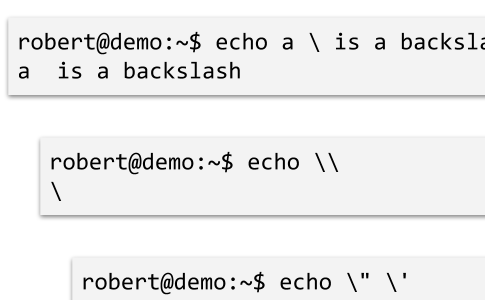 Here is another question that often comes up by my students and clients:
" … how can I solve the problem with these special-characters? The shell always gets me wrong …"
The fast and simple answer to this is: You have to quote!
… and you have to to it the right way.
But let's start from the beginning:
As you know, there are characters at the command line, that simply has special meanings for the shell.
You use them for instance, for referencing the content of a variable ("$")
robert@demo:~$ echo Hello $NAME

… or for redirecting a datatream to a file (">"):
robert@demo:~$ ls -l /etc > $TEMPFILE

But everytime you wanna use these special characters without their special meaning for the shell, you have to take special care about it.
(huh - three times "special" in one sentence. this must be really special ;-) )
So instead of writing
robert@demo:~$ echo Buy this book for $9 now
Buy this book for now

you have to write something like
robert@demo:~$ echo 'Buy this book for $9 now'
Buy this book for $9 now

In this way, the shell won't try to interprete $9 as a variable. Instead it would take the "$"-sign just like what it is: a $-sign.
This mechanism is called "quoting" and technically explained for instance in depth in the Bash-Documentation.
Let me show you, how the quoting works. And your shell never gets you wrong again … ;-)
Continue reading »