Get to know your Linux system - Lesson #4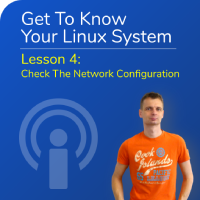 In this fourth episode of "Get To Know Your Linux-System" we wanna examine the network capabilities of the system you are currently on.
And to be honest - this lesson is a tough one - if you aren't the guy who configures networks every day.
Therefore I try to keep it as simple as possible …
What will you learn?
examine the configuration the network-interfaces
which ports are open?
… and which processes are listening
is there a local firewall in place?
Notes:
at 5:52 I talk about "IP version 5" - obviously it's "IP version 4" ;-)
Episode #: Get to know your Linux system - Lesson #4